Meet The Band
Aaron Water (Vocals & Guitars/Songs)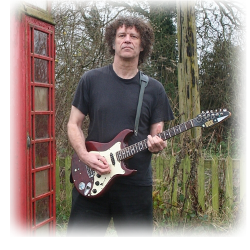 Aaron Water's musical career began at fifteen as bassist and occasional lyricist in a school rock-band ('Shrapnel') whilst also becoming interested in 1970's science-fiction, the books of Michael Moorcock, and the music of Hawkwind. This (combined with a residents' petition against practising bass in his parents' garage) then led to an interest in learning six-string guitar, and a few years later to a five-year ambient space-music project (the still-unreleased 'Luna') with Cardiff based keyboard-player 'Crum' (recruited by Dave Brock for a solo project in 1987). A career in freelance journalism followed, but was nonetheless punctuated by a series of (unreleased) recordings made at Broadoak Studios during the 1990's under the working title of 'The Lex-Head Corps.' - as Aaron returned to a longstanding interest in song-writing. Some years later, with journalism duly abandoned, a significant success as a writer (under another name) then ensued, interspersed with occasional acoustic gigs in pubs, mainly as a solo-artist but sometimes with others and including some as a duo with the late great Huw Lloyd-Langton.
Finally "Silverwing" - a name 'invented' by Aaron without knowing that it was both a bat and a motorbike - was then forged as a three-piece rock band in 2001, and after a brief experiment with cover-songs, a collective decision in favour of Aaron's material confirmed him as the songwriter for the band.

[NB: Huw Lloyd-Langton died in 2012, much missed by the many fortunate to have known him - so this dedication is to Huw, Marion & Kirsty]
Roger Davis (Bass)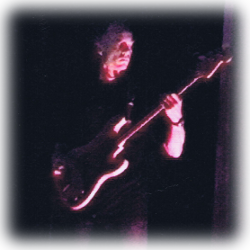 Roger's early musical career began with a spell in the mid 1970's playing with the legendary London punk-band 'The Outpatients' (www.spivuk.com/tom) before a move to South Wales saw him featuring (with brother Pete on drums) in the rhythm-sections of a number of local bands including the latter-day 'Space-Gypsy' (since regrouped as 'Sidetracks') whilst also becoming embedded in the much longer-lived musical institution of 'The Head Gardeners'.
Well-known for his imperturbable nature, Roger's ability to fix things has occasionally seen him affectionately known as "... the bodger", and when not holding things together amidst the musical errancy of others, he can regularly be found either up to his neck in cold seawater (in pursuit of an interest in windsurfing) - or up a tree (due to an expertise in tree-surgery).
Sally Ann Iles-McKie (Drums)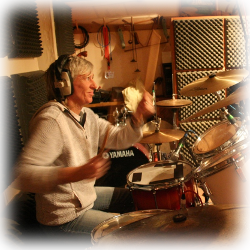 Sally has been playing drums since the tender age of 11 and was the first female to be accepted by the renowned Bob Henner drum-school. Her musical career began at local level, playing at first in the traditional world of old-time dancing before moving into the broader social-club scene where her unique ability was soon spotted, bringing the opportunity to work professionally within the entertainment industry. Sally then played for theatre and television, before moving on to travel around the country supporting a wide range of bands and artists.
As anyone who knows her will agree, her energy and enthusiasm is unparallelled - Sally's heart has always been in music and she can often be found playing in jam-sessions or (if it's an acoustic set) giving a virtuoso performance on the spoons! Whilst providing 'Silverwing' with a hard-hitting beat which drives like an engine - she has also found time to represent her country at fly-fishing, bagging the Welsh Championship on one occasion (as well as the 2014 team captaincy) - she has played in a cricket team, is currently in a bowling team, has competed in brass-band competitions, and has even been a successful entrepreneur.
[NB: during the recording of the album - Sally's sister Margaret sadly passed away - so this dedication is to her]
Guest Artists
Nik Turner (Sax & Flute)
A founder-member of the major space-rock band 'Hawkwind', Nik also produced the excellent 'Xitintoday' album with 'Sphinx' in 1978, and went on to develop a highly successful solo-career with a flotilla of projects including 'Inner City Unit', 'Nik Turner's All-Stars', 'Project 9', and the ever-popular (and ongoing) 'Space-Ritual'.
Steven Tallendale (Guitars/ Synthesisers & Programming)
Steven has done session-work for over twenty years, during which he has also recorded at Ealing Studios and performed with the London Sinfonietta, as well as with Irish rock-star Damien Rice.
Fay Goodman (Additional Vocal)
www.f3y.co.uk
www.ladysamurai.co.uk
faygoodman.co.uk
Also known as 'Fay Yvonne' and 'Lady Samurai'(due to her expertise with the Samurai sword), Fay was signed to EMI and released the single ('Turkish Delight') with 'China Doll' in the early 1980's before recording at Abbey Road Studios in 1984 and going on to produce a string of albums (featuring musicians such as Rick Wakeman, Tony Iommi, Gordon Giltrap, Dave Lambert, and Jean-Jacques Burnell) - including the recently outstanding 'Head In The Clouds'.
Angel Flame (Dancer)
www.freewebs.com/angelflame2004
A free-form expressionist influenced by Isadora Duncan (and with an interest in flamenco) Angel has danced her way through life since the seventies, working with numerous leading musicians whilst also teaching at various dance schools. In recent times she has featured with the 'Space Ritual' and is currently well-known and popular for her performances with 'The Crazy World Of Arthur Brown'.