History of the Band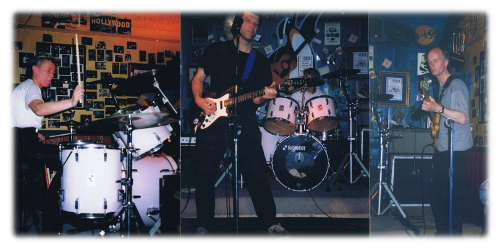 In The Beginning
'Silverwing' were almost literally thrown together in 2001 when a mutual friend of Aaron Water and Sally Iles (Tina Hyde) suggested that the apparent compatibility of their musical styles should be tested by making a noise in her front room. Aaron Water then recruited bassist Roger Davis (both were then playing with the now defunct Brecon-based band 'Space-Gypsy') - and the 'gig' went ahead in a tumble-down house on the edge of a golf-course, to an audience soon bolstered by the neighbours, whose observations were - firstly that the plaster was falling off their walls, and secondly that it sounded really good!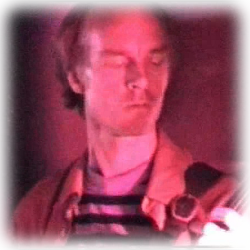 There then ensued six years of playing in numerous venues across South Wales and the borders - including headlining at the Ross-on-Wye 'Unintentional Festival' in 2003, and regular appearances at Dylan Thomas' favourite pub the substantial 'Uplands Tavern' venue in Swansea, where as a three-piece improvising band with a notoriously massive 'raw' sound, Silverwing were virtually unique as a Saturday-night act.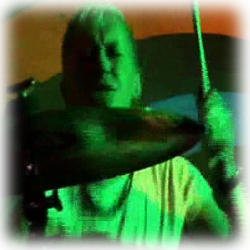 By 2007 however, the hard-core rock'n'roll lifestyle (struggling around with equipment in blinding rain, cold and darkness without significant roadies or remuneration) had begun to take its toll - Aaron Water was concentrating on a writing career rather than arranging any further madness for the band, and so the gigs became fewer, and fewer - until ...
Spain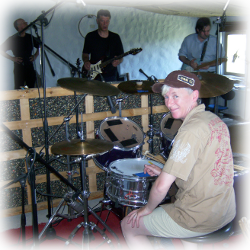 In 2009 Tina Hyde - who had moved to Spain - played an extremely rough bootleg of the band (recorded on a ghetto-blaster) to a man in a tapas-bar who turned out to be music-producer Simon Frazer, owner of the legendary 'Sawmill Studios' in the 1970's (and the man who lent Lemmy his first bass) who after a lifetime in the music industry had recently been exhausted by working with 'Oasis', and had just constructed a refuge and recording-studio in Spain. "Have these people flown out!" he decreed - and so began "Strange Daze Indeed".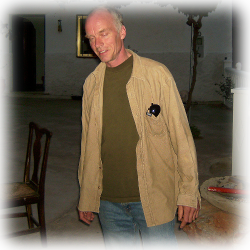 Once in the sunny paradise of rustic Spain, the band were joined by two guest-musicians who were invited for the occasion - Hawkwind founder-member Nik Turner on flute and sax (who had guested with 'Silverwing' on various occasions over the years) - and Steven Tallendale on guitar & keyboards. The recording sessions went well, and the band worked hard, resulting in numerous exits from the studio at 3 o'clock in the morning, only to find that yet another starlit banquet had been arranged beside the swimming-pool - thus enforcing a constant cycle of wine, song and interesting dreams.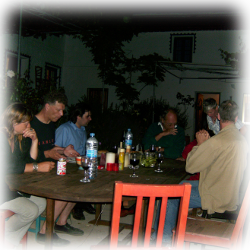 Three weeks later found Aaron Water staying on to finish the vocal-tracks - but with the recording and editing complete, an increasingly problematical health-issue (from which Simon was suffering), meant that mixing and production of the album was destined for Dave Wood back at Broadoak Studios in the UK.
Back to Broadoak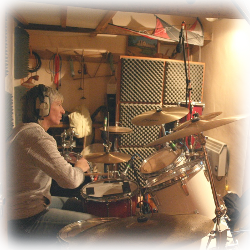 This (after an impecunious interlude) then saw another year of sustained effort during which Aaron and Dave embarked upon a creative approach to the Spanish material which brought it much closer to Aaron's original vision and (with a militant disregard for modern trends and the i-pod) developed it as a concept-album with maximum dynamic-range (so turn it up!).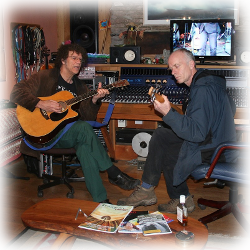 Finally - with the project near completion - singer-songwriter Fay Goodman (aka. 'Fay Yvonne') was invited to add vocals to one of the tracks - and when a last-minute opportunity (courtesy of 'No-Budget Productions') arose to film a video for the single ('Whose ID?'), Angel Flame (well-known dancer with 'The Crazy World Of Arthur Brown') very kindly also made a guest appearance, despite being in the middle of a European tour.